01 mars 2011
"On appelle "bonheur" un concours de circonstances qui permette la joie.
Mais on appelle joie cet état de l'être qui n'a besoin de rien pour se sentir heureux." André Gide
28 mars 2009
End of this blog...Back to reality soon...:-((
Thanks to everyone to make my life more beautiful, more funny, more lovely, more simple, full of smiles, love, dances, songs, exchanges, discoveries...Full of colors, surprises, meetings, talkings, feelings...So many different points of view, cultures, desires, journeys, nationalities...My life will never be the same, inner and outer life !
Thanks to India, incredible country, amazing journey with beautiful meetings from the North to the South. See you next time, next life !
What is the most important ? It's a very personal question, each one has a different answer...Go to look for your truth, your destiny. I don't want to give a life lesson, I am a beginner and I need to practice, experiment and enjoy the present moment again and again. ;-))
"Life is a continuity always and always. There is no final destination it is going towards. Just the pilgrimage, just the journey in itself is life, not reaching to some point, no goal--just dancing and being in pilgrimage, moving joyously, without bothering about any destination. What will you do by getting to a destination? Nobody has asked this, because everybody is trying to have some destination in life. But the implications... If you really reach the destination of life, then what? Then you will look very embarrassed. Nowhere to go...you have reached to the final destination--and in the journey you have lost everything. You had to lose everything. So standing naked at the final destination, you will look all around like an idiot: what was the point? You were hurrying so hard, and you were worrying so hard, and this is the outcome." Osho
"Experience life in all possible ways -- good-bad, bitter-sweet, dark-light, summer-winter. Experience all the dualities. Don't be afraid of experience, because the more experience you have, the more mature you become." Osho
25 mars 2009
In Colaba area. Near the Taj Palace.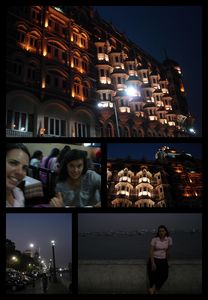 On the road...dans les bus publics !!! Une sacre aventure, au fond avec des ptits vieux operes de la catharate !!
Mudumalai Wildlife Reserve !! Petite famille d'elephants sauvages. Moi qui revais de voir des tigres!!!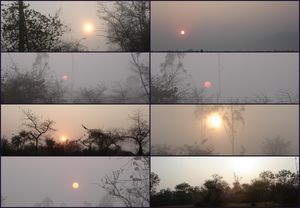 Sunrise...Amazing !!
Mysore by night !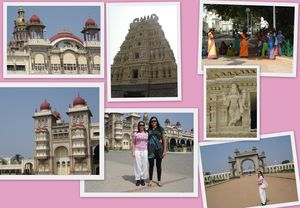 Mysore Palace
19 mars 2009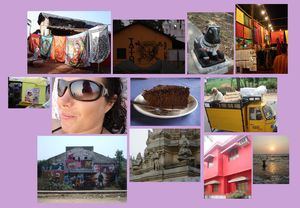 Bon OK, ca va un peu faire carnets de vacances...Mais j'assume !! Et puis la fin de mon trip in India touche bientot a la fin, comme toutes les bonnes choses ! Et donc aussi la fin de mon blog. Ca fait bizarre...Sauf si je trouve des gentils sponsors d'ici la pour financer mes prochaines aventures !!!!!!!!! Soyons fous !!
Osons ! Revons ! Vivons !! Cassez vos teles...et les infos deprimantes qui vont avec !!
Alors voila quelques montages photos...Tout juste capables de retranscrire les belles vacances que je vis avec ma chere soeurette!!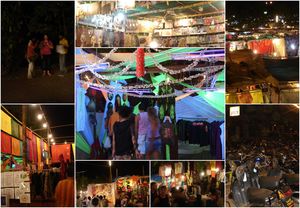 Night Market near Baga.
Dolphins cruiser day !!
We arrived to see dolphins, we were very excited !! And snorkelling !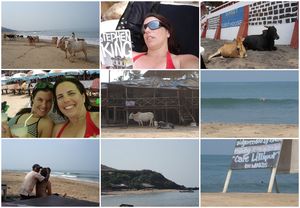 Anjuna, notre coup de coeur, plage encore assez sauvage...Des vaches qui squattent, des ptits marchands, de la musique, des transats et des strawberry lassis !!!
De jour comme de nuit !! Du lever au coucher du soleil !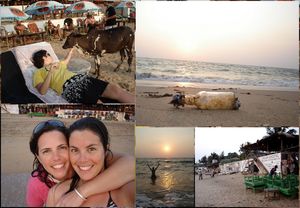 Bangalore in 1 day !!!
Mysore...ou on s'est tout de suite senties bien !!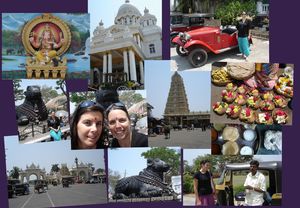 Belles cathedrales, eglises et chapelles !!! Pour notre journee culturelle!!
Que du bonheur !!! Cheveux au vent !!
En commencant par Baga (tourisme de masse)...et en remontant vers les plages du Nord, plus sauvages.
Coup de coeur pour Anjuna et Morjim.
Et c'etait un jour ferie, HAPPY HOLY...Les indiens s'amusent a se jeter de la poudre coloree...On a essaye d'esquiver, c'etait bon esprit !!
Quartier portugais haut en couleurs. Eglises et facades colorees.
En train couchette. Trajet de 12h (il ne restait de la place que dans celui-la). Defile de superbes paysages.
Et coucher de soleil a l'arrivee !